Repairs & Servicing
Our Engineers can carry out repairs and servicing to commercial vacuum cleaners and floor machines in our fully equipped Workshop.
We keep a wide range of spares and accessories in stock which enables our Engineers to repair machines promptly.
PAT Testing
Do you use equipment that has a plug?
Do you own or work in property, a construction site, commercial kitchens, schools, hotels and shops?
Is your electrical equipment used by the public?
The Health and Safety at Work Act 1974.
The Management of Health and Safety at Work Regulations 1999.
The Provision and use of Work Equipment Regulations 1998.
The Electricity at Work Regulations 1989.
The Workplace (Health, Safety and Welfare) Regulations 1992.
your STATUTORY requirements are to have Portable Appliances, fixed equipment, appliances/equipment for buildings, IT business equipment and extension leads inspected and tested.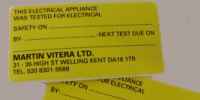 Our engineers can carry this out for you and we document and maintain records of all appliances tested.
On site Repairs and Portable Appliance Testing available at your site, please contact us for a quotation on 020 8301 5588.
Product Brochure
Take a look at our new product brochure, created in PDF format to ensure simple viewing.
Click here to view.